Firstly i need to point out that im inputting this tut as i do it as my concentration isnt long enough to sit and do it in one go lol
For tips on where to get henna and indigo and what to look for etc see the bleaching and dye forum
1) Heres my awful roots, cant believe i let them get this long, though in my defence my hair grows incredibly quickly! The indigo from last time is fading too so my hair has gone a reddy colour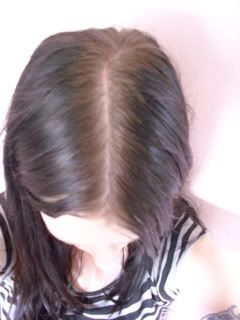 2) The day BEFORE you want to do it mix your henna powder with freshly squeezed lemon juice (remove those pips!) mix to a thick paste (like clay almost) then cover with clingfilm or whatever, leave overnight, make sure all your utensils are NON METALLIC
4) The next morning mix your paste to a yoghurty consistency with water. TIP: use warm water it feels much nicer when you apply!
Wash your hair with shampoo but not conditioner, comb.
5) After making sure your hairline and ears are well covered in vaseline and you have plastic gloves on, spread your henna over your hair the same as a chemical dye, in sections. then cover your entire head with clingfilm and proceed to scare your neighbours half to death when you go to get your washing in lol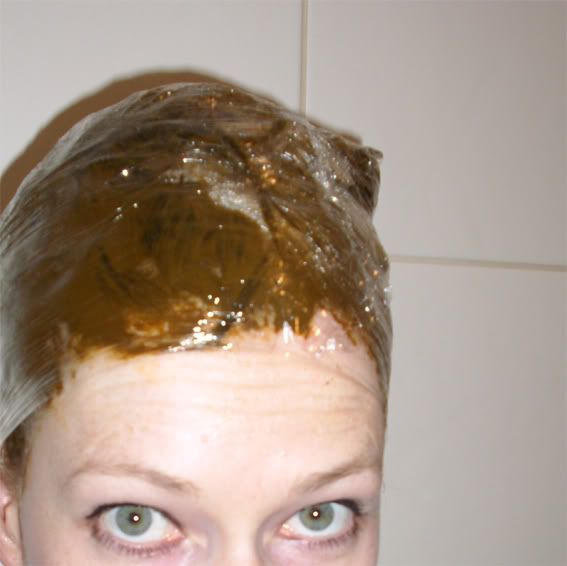 im going to leave this on for about 4 hrs
6) APPROX 4 HRS LATER......
rinse very well using a mild shampoo then towl dry. Hair / roots will look a bit like this, obviously depending on the colour they started off as!
REPEAT STEPS 4+5 BUT WITH YOUR INDIGO POWDER
note: you do not need to do the lemon juice thing or the leaving overnight thing. mix to a yoghurty consistency and use straight away! This stuff is harder to get it to stick to the hair so a bit of determination is needed also!
Re-clngfilm your head and go to bed for the night, youve earned the rest!
In the morning washit out and shampoo, dryand style and Voila!